Canviz creates process improvement tool for health care organization
Office 365 Six Sigma Teams Huddle Solution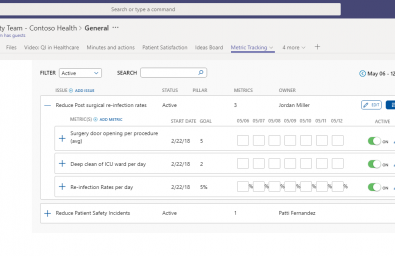 For one of the largest health care organizations in the United States, their process improvement team huddles were difficult: their white board and paper-based process was taking too long and prone to error.
The effort vastly improved the company's ability to capture imformation, organize it, vet it, and take action. They knew that in order to succeed they needed a team with deep expertise in building collaboration solutions. They turned to Canviz to create their new six sigma huddle process.
Baylor Scott and White is one of the largest not-for-profit healthcare systems in the country. Every group in the hospital is required to hold weekly huddle meetings as part of the lean \ six sigma process improvement strategy. These meetings are used to identify issues and problems that are reducing the quality of care that the hospitals provide such as: high infection rates, low supplies, or temperature issues. The huddles have been traditionally done through pen and paper which have the following fundamental issues:
Remote teams had a hard time collaborating.
Great ideas that were developed by a single group were not easily shared to upper management and other departments.
Long term capturing and analysis of the data was not performed.
Only during huddle meetings were ideas and problems captured, a digitized process would allow for constant input throughout the week.
Using Microsoft Teams, the Azure Bot Framework, Power BI, PowerApps and Microsoft Planner, Canviz created a digital huddle board that can be reused across any industry that implements the six sigma huddle process.
The huddle group team members are happy with the solution that Canviz developed because it helps them to improve in their everyday duties and have a place to capture, track, and share issues where they can take actionable steps to improve the quality of care in the hospitals. The huddle solution allows mobile and remote collaboration to address every inefficiency the group members are facing at each part of their day.